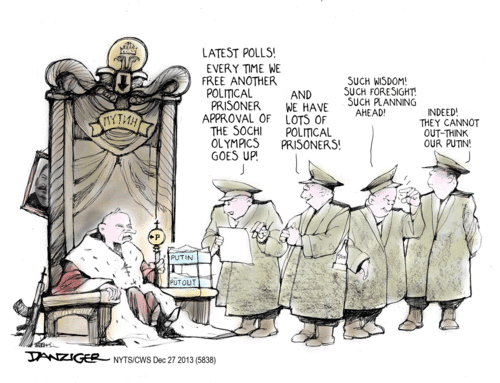 (Jeff Danziger's website)
From Reuters:
One of two freed members of punk protest band Pussy Riot, Nadezhda Tolokonnikova, said on Friday their release was aimed solely at improving Russia's image before it hosts the Winter Olympic Games and was not a humanitarian gesture.

Tolokonnikova, 24, and Maria Alyokhina, 25, walked free under a Kremlin amnesty on Monday after serving more than 21 months of a two-year prison term for performing a profanity-laced "punk prayer" protest against President Vladimir Putin in Moscow's main Russian Orthodox cathedral.

Tolokonnikova said the Winter Olympics, due to be held in February in Russia's Black Sea resort of Sochi, were Putin's pet project and that anybody attending them would be supporting him…
Kat Stoeffel, at NYMag:
The two released but unrepentant members of Pussy Riot said in a press conference today that the Russian punk-protest band is breaking up.

"We are not Pussy Riot now," Nadya Tolokonnikova said.

"We can promote our cause without playing any shows," Maria Alyokhina added. "And we will never play any shows for money."…

Tolokonnikova and Alyokhina will limit their artistic activities to inmates because Russia's prisons are so bad that they require a "cultural revolution," they said, and probably because when you call yourself a band you're stuck doing interviews like this one with opposition "It" girl Ksenia Sobchak. Sobchak asked if Tolokonnikova, as the prettiest Pussy Riot member, was the Beyoncé of the group, bound to go solo, and, if so, was that sexist? Eye-roll gifs aplenty at Buzzfeed.

From the Washington Post: