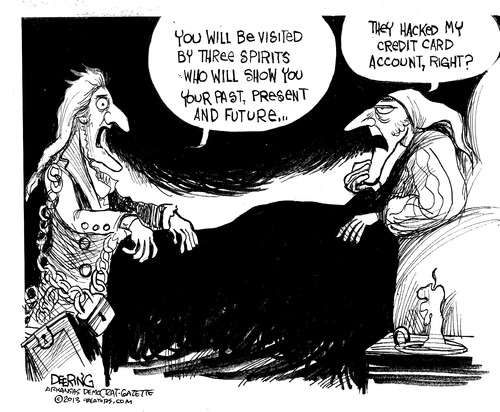 (John Deering via GoComics.com)
Point and mock. Luke O'Neil, journamalist, whines in Esquire about "The Year We Broke the Internet":
… The Internet, like the Sphinx, is a ravenous beast that eats alive anyone who can't answer its hoary riddle. We in the media have been struggling for twenty years to solve that riddle, and this year, the answer arrived: Big Viral, a Lovecraftian nightmare that has tightened its thousand-tentacled grip on our browsing habits with its traffic-at-all-costs mentality—veracity, newsworthiness, and relevance be damned. We solved the riddle, and then we got eaten anyway…

This is not a glitch in the system. It is the system. Readers are gullible, the media is feckless, garbage is circulated around, and everyone goes to bed happy and fed. BuzzFeed's Jonah Peretti admitted as much when explaining, that, when he's hiring, he looks for "people who really understand how information is shared on Twitter and Facebook and Instagram and other emerging platforms, because that is in some cases as important as, you know, having traditional reporting talent." Upworthy editorial director Sara Critchfield seconded the notion. "We reject the idea that the media elite or people who have been trained in a certain way somehow have the monopoly on editorial judgment."…

This conflation of newsiness with news, share-worthiness with importance, has wreaked havoc on the media's skepticism immune systems. It didn't happen out of nowhere, it's a process that's been midwifed by the willful blurring of the lines between fact and fiction on the part of a key group of influential sites, that have, unfortunately, established a viable financial model amid the wreckage of traditional media. It's why companies are so eager to shuffle native ads—content produced to appear as if it were a site's regular content—into the regular mix. They're hoping we won't know the difference. They're right, we often don't. That's part of the reason native advertising revenues are up 77 percent this year, according to a new study by BIA/Kelsey. There are practically no consequences anymore….
***********
Apart from that, what's on the agenda today?