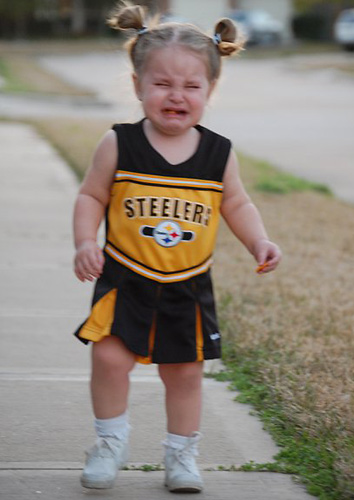 I love the Stillers, but I also understand the hatred so many of you have for them, so even though I would have liked to have seen them squeak in, I think I predicted they would go 5-11 this year, so I really didn't take the KC loss to hard. The Steelers had no business in the playoffs this year. The Chargers won, I took down my 11′ flag, put up the Pens flag, and moved on.
But man, people in the 'burgh are not handling things well. Every 11 o'clock news cast has this somber atmosphere as if Art Rooney was reincarnated and then bludgeoned to death with a Lombardi trophy by Larry Brown. And the man on the street interviews with hammered yinzers who never made it home from the stadium, I mean, people, have another double jagar and let it go. I mean, I am right there with you in one sense, but god damned, you're on tv you drunken jabroni, and we had no business being in the playoffs to begin with…
Plus, we lasted longer than the Ravens.