So, Dr. Strangelove Charles Krauthammer weighs in on the latest news out of Benghazi — which is to say the non-news that there was no conspiracy to cover-up whatever evil Hilary Clinton and Barack Obama are supposed to have done in this latest round of conspiracy mongers.
You may recall that a few days ago, The New York Times showed what real newspapers can do when they put some muscle into a story, and dug into the events that led up to the four American diplomats'/intelligence officers' last hours in Benghazi.  They concluded that it was a confusing situation, that (as reported at the time) an incendiary video helped gin up a crowd, and that (as President Obama noted, to Romney's eternal embarrassment, the next day) local Islamic militants were also involved.  The key finding: no meaningful al Qaeda link, as the Benghazi dead enders have been trumpeting for a while now.
So, if you are such a dead ender — that is to say, if you are a member of the modern GOP and/or part of its supportive claque in the DC media — what do you do?
Sane people might say, OK, nothing to see here, let's move along.  I mean, even the Birthers (in office — not the Orly Taitz variety) finally gave up.  Also: Benghazi does have a real political downside.  The more it becomes obvious that there is, in fact, nothing to see here, that bad things happen in the world and not even a Kenyan Mooslim arsenal of superpowers can prevent them all, then the blowback for using American dead for such obvious political purposes starts to bite.
Hell, it already did.  See, again, Mr. Romney, burned not once but twice on the campaign trail for overeager Benghazi baiting.
But, of course, the set of sanity does not overlap with the set of those professionally committed to the destruction of all things the Democratic Party might support, a gang which includes much if not all of the GOP congressional delegation.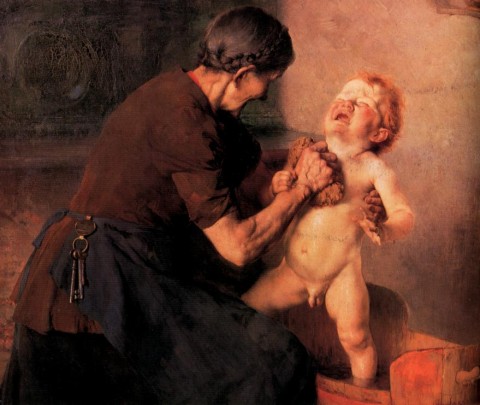 For example, consider this, from Congressman Lynn Westmoreland, a shining light of Georgia's delegation to the Capitol:
"Of course Secretary Clinton was in charge at the time, and you know there are just now a lot of rumors going and pushing about her running for president in 2016," he said on Fox News, as recorded by the Hill. "So I think they are already laying the groundwork."
OK — so utterances of rabid partisanship have become SOP in the House GOP, so I suppose I shouldn't be too shocked,  But what about that class of folks who consider themselves above the grubby world of politics — AKA the grandees of Washington's media village.  Enter Charles Krauthammer.  There are none who combine the unmerited mantle of authoritative judgment and sheer malice more completely than our man Krauthammer — inexplicably treated as a serious analyst of modern politics and wholly engaged in the construction of the One True Narrative, reality be damned.
Hence, reacting to the news that the NYT op-ed editor had ridiculed Westmorland et al.'s claims Krauthammer erupted:
"By being defensive about this, he's making it quite obvious the reason that the Times invested all the effort and time in this and put it on the front page is precisely a way to protect the Democrats, to deflect the issue, to protect Hillary, who was exposed on this issue as almost no issue in her tenure in the administration. It is obviously a political move."
I actually think that's what Krauthammer believes, along with Westmoreland and the rest of the GOP officeholders chasing down the Benghazi "truther" rabbit hole.  Why shouldn't they? It's what they would do.
Hell, it's what they are doing:  to belabor the obvious, crying "Politics" avoids the necessity of parsing what the Times actually reported.  It saves having to defend the various claims of whatever it is that Clinton or Obama is said to have done wrong. Most of all, it ducks the obligation to take on what did happen in Benghazi with enough thought to inform deliberations that lead to, for example, not blowing up stuff in Syria.  Much easier to accuse the other side of doing exactly the vicious shit you would have.
These are not people to be allowed near the reins of government. They probably shouldn't be allowed near scissors.  Danger to self and others and all that.
Image: Georgios Jakobides, "Cold Shower" 1898