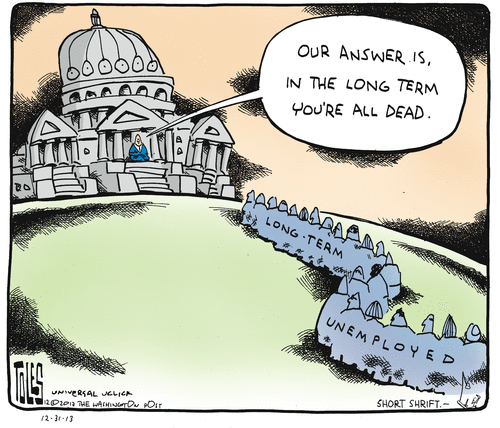 .
I'm not the only one who really likes the idea of Democrats pushing for a living minimum wage. George Zornick, at Greg Sargent's Washington Post blog, has an idea for kickstarting the campaign:
… It's a terrific idea. And there's one way President Obama can show he takes the issue seriously: by issuing an executive order raising the minimum wage for 2 million federal contractors. This, too, is good policy, and the president is likely to get significant pressure from his left flank to do so.

More than half a million employees of federal contractors make less than $12 an hour, according to a study by the progressive think tank Demos. When the National Employment Law Project interviewed more than 500 federal contract workers who work in service-industry type jobs, sew military uniforms and drive trucks, more than 70 percent made less than $10 an hour…

Aside from the obvious benefit to workers and the economy, it could help present a unified Democratic front on the minimum wage. This year 15 senators and 50 members of the House, all Democrats, sent Obama a letter urging him to issue the order. Those efforts are likely to intensify this coming year and will be harder for the White House to ignore as Obama hits the campaign trail demanding a federal minimum-wage hike…
True, it would be preferable if the minimum wage could be raised through bipartisan legislation, but it would also be preferable that chocolate not have calories, and that ain't happening either. Even legislation is hardly bulletproof — the WaPo also has the sad story about how SeaTac's minimum-wage workers have been judicially 'carved out' from the successful Seattle vote to raise their wages….
***********
Apart from that, what's on the agenda, First Night preparations or otherwise?