So basically, in 2013, I lost my cat, I lost my car, I lost my will to blog, and I totally lost my grounding, and were it not for my special doggy friend with her bullet shaped head and alligator lips and bulgy eyes and wet nose with whiskers all askew and her ability to lie underneath the covers with me for hours on end, I may have just said fuck it all. I don't want to tempt fate, but I think I should be up for a pretty solid 2014. I mean, if it is as bad or worse, at least I know I have the start of a kickass country music song ready to be written.
Everyone is passed out all over the place, and I went over to the cat tree to take a pic of Steve for this post, and he came out to pose, let me take a couple pics, there was some heavy petting, and then he went back into his cat cave in the tree. He really does love this tower. Speaking of, here is Steve wishing you all a Happy New Year: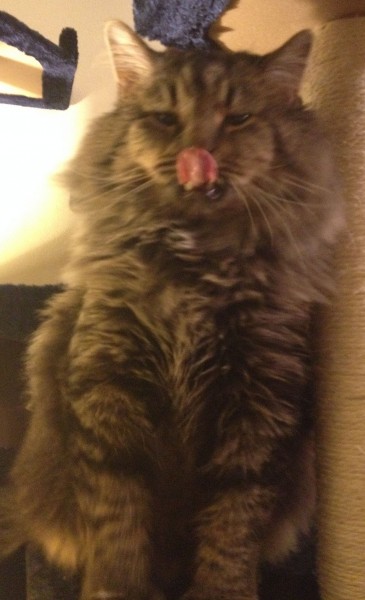 Happy New Years, juicers.