A: Wherever he wants.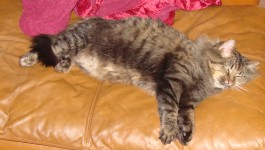 He takes up almost the entire damned Ottoman. And I can never get enough of those paws:
A worthy successor for Tunch, and exactly what this house needed. I have no idea what people see in meek or small or timid cats who run and hide. I want a big cat with big cat attitude and big cat love.