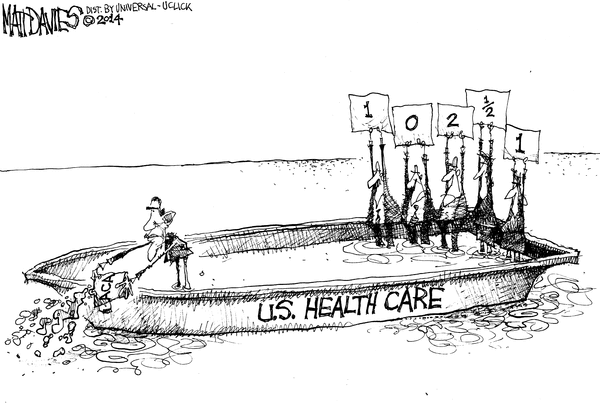 (Matt Davies via GoComics.com)
.
Couple upbeat opinions to start the week. Noam Scheiber, at TNR, thinks "Obamacare Actually Paves the Way Toward Single Payer":
… In the heat of the political back-and-forth with Republicans bent on the program's destruction, this whole Obamacare adventure can feel a little hopeless. But when you look at the big picture, the underlying political logic is clearly toward more generous, more comprehensive coverage over time. Once the previously uninsured start getting insurance, the natural upshot of cataloguing the law's shortcomings isn't to give them less insurance, as my colleague Alec MacGillis pointed out last fall. It's to give them more. Republicans are in some sense playing into the trap Obamacare laid for them.

Medicaid expansion is a case in point. Under Obamacare, uninsured people who earn up to 138 percent of the poverty level (just under $16,000 for a single person in 2013), can qualify for Medicaid, at least in states that opt into the law.3 This has a few key political consequences, as Pollack notes. First, it transforms the political constituency for the program. Historically, Medicaid has served extremely poor, frequently minority, patients who either don't vote or support Democrats when they do. That meant the GOP had no hang-ups about squeezing it. But there will likely be millions of white working-class voters on Medicaid in the coming years. (Even in some conservative states, like Arkansas, Kentucky, and West Virginia.) Once that happens, something tells me Republicans will become more charitably-disposed to the program….
Jon Chait, at NYMag, says that "After Obamacare Is No Longer Doomed, It Will Become A Scandal":
Obamacare — actual, real, Obamacare, with doctors and cards and everything — has been operational for nearly a week now. It has been … extremely boring. It does not look like Stalinist collectivization. There aren't even any beheadings. It looks like regular medical insurance, except several million more people now have it than before…

Obamacare is a gaping wound in the Republican psyche, representing not only the rise of a majority moocher class but a potential symbol of a successful Obama presidency. Health-care reform, George F. Will has ludicrously if representatively declared, amounts to Obama's "single" achievement. If it lives, it will vindicate his presidency as a liberal Reagan, rather than the reprise of Jimmy Carter (or George W. Bush) Republicans wish him to be…
***********
Apart from watching the GOP clowns attempt the rhetorical equivalent of juggling flaming torches during a pie fight, what's on the agenda for the "real" workday start of the new calendar year?