Sometimes, on a Sunday night after a long week, we just need some me time: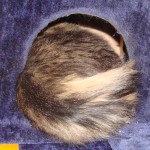 Lily says "HI!," though:
And screw you to all the people who hate the blankets my grandmother made. You get two dogs and then you will realize it isn't about a fashion statement, it's about the rotating pile of dog blankets in the washer and dryer. Some look better than others.
Regardless, fuck you anyway. My grandmother made them and I like them. So there. You have cooties. And whatever other childish bullshit I can think of right now.