Big Chris Christie scandal coming to light. You may read the documents here, courtesy of Talking Points Memo.
On Sept. 9 and Sept. 10, Wildstein was apparently receiving ongoing updates about the "traffic disaster" in Fort Lee. On Sept. 10, Wildstein said to someone via text message that Fort Lee's mayor had reached out to Bill Baroni, another Christie appointee, expressing worries about "getting kids to school."
"Help please. It's maddening," Sokolich wrote in a message to Baroni.
That message appears to have been passed on to Wildstein who wrote, "Is it wrong that I am smiling?"
It is unclear who Wildstein was corresponding with, however the recipient of his message said, "No."
"I feel badly about the kids," wrote Wildstein. "I guess."
"They are the children of Buono voters," joked Wildstein's correspondent, referring to Christie's challenger in last November's election, Barbara Buono.
What you learned in 5th grade remains true:
New Jersey Gov. Chris Christie (R) on Wednesday canceled his only public event for the day after multiple media outlets published emails and text messages linking Christie aides to lane closures on the George Washington Bridge, the Newark Star-Ledger reported.
Christie had planned to speak in Ocean County about housing recovery after Hurricane Sandy, but announced that the event was canceled in an email without citing any reasons.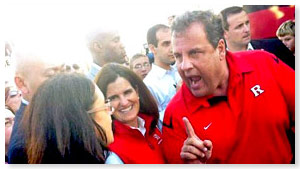 Bullies are cowards. Always.