It's feast or famine around here lately. Maybe we should coordinate our Seroquel doses or something. Anyway, here's some spiny mammal prØn: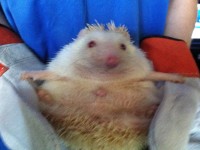 This is my daughter's hedgehog, fresh from his bath. He's a weird little critter with a brain that is probably 1/8th the size of a lentil, but even so, I feel vaguely guilty about exposing him to so many strangers without his permission.
I just thought it was high time to end the cat and dog tyranny of Balloon Juice pet photos. With something other than a chicken.
Please feel free to discuss whatever.