One of my favorite things about Steve is how he acts like one of the dogs whenever someone comes to the door- they all run and greet the guest, and on at least five occasions someone (UPS, meter man, etc.) has walked in and said "Wow- is that a cat? Are you serious? He's massive! That is some cat"That is some cat," because it always reminds me of Wilbur and Charlotte.
At any rate, the lord and master on the top shelf of his cat tower. His winter mane continues to grow, and at this point, if it keeps growing, he may be able to schedule a guest appearance on Duck Dynasty his beard is so long. And I brush him every day!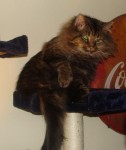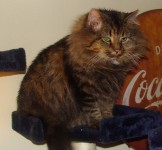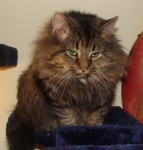 You can really see his Tunchspot in the last one, and the colors look like he really looks for a change. The problem with him though is that after a few pictures, he gets bored, because he is so affectionate and just wants some loving: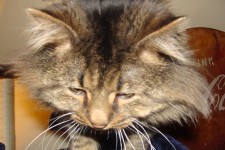 *** Update ***
I forgot the best thing. He comes when I call. I'll be lying in bed with Lily in the armpit and Rosie on the hip and think I haven't seen him in a while and won't be able to sleep until I have proof of life, so I yell out "Steve! Steve! Here kitty, kitty, kitty. C'mere Steve." and nine times out of ten he comes running, jumps into bed, and falls asleep with his butt and hindquarters on the bed and his front paws, torso, and face on my arm/shoulder right next to me.
Such a find. Why are all these awesome animals in shelters. Why are there people who have no pets?