I'm not the only one who had a long year, and our generous friend who does the annual Balloon Juice calendar had some real life stuff going on, too, so we were not able to get the calendar out in time. However, it will be available by mid-week next week, and I wanted to share a preview of the new cover: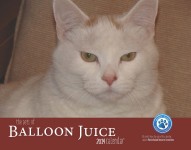 I didn't know she was going to do that, and I cried when I saw it. I hope you all will still consider buying one, even at this late date, because it will all go to pet rescue.
He was a magnificent fat bastard.