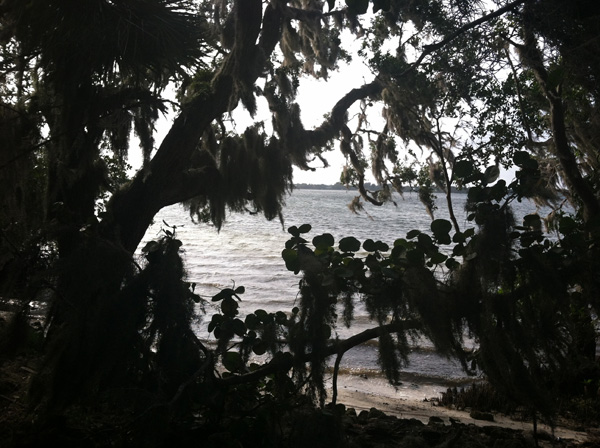 It's a gorgeous day here. The above photo was taken earlier on the bank of a brackish section of river that empties into a bay, and thence into the Gulf of Mexico. You can't tell from the photo (unless you closely observe the moss), but it's very windy.
Last night when I was chauffeuring the younglings around, I caught snippets of an interview with Julian Fellowes, creator of Downton Abbey, on NPR. It got me thinking about the moral implications of domestic help.
Fellowes said his background was considerably less posh than is generally assumed, meaning his family only had people in to cook and clean rather than maintaining a large live-in staff with very specific roles (bum swabber, scone butterer, etc.).
I've personally experienced the luxury of domestic help only for one brief period in my life, and ironically, it was the time I had the least use for a servant: I was a single 20-something, living alone in an apartment. A dear friend was in dire straits financially and had launched a cleaning service, so I agreed to be his twice-weekly customer.
While it was nice to live in a place with consistently clean floors, windows and toilets, where shelves were regularly dusted and cobwebs cleared away, I felt weird about it. I would have rather just given my friend the money, but he wouldn't have accepted it as a gift.
This arrangement ended when I met my future husband and we moved to a different part of town. He occasionally jokes that we married under false pretenses since he assumed I was a better housekeeper than I actually am because my apartment was so clean back then.
But if he was deceived, it wasn't for lack of honesty on my part: I told him straight up that slovenliness is my natural state, and he was an awful slob himself: His bachelor apartment wasn't merely untidy, it was positively squalid.
For the last 15+ years, we've maintained a basically hygienic but often dusty and cluttered home. We're both capable of tolerating a high degree of domestic chaos; ongoing home renovations haven't fazed us.
We split the household chores pretty evenly. I shoulder the lion's share of the indoor work in exchange for not having mowed a lawn since the Clinton administration nor having had to patrol the yard for dog poop. Works for me.
My sister and sister-in-law, who are wealthy and child-free, have a cleaning lady, pool service and lawn crew. I think if you have too much shit to take care of yourself, you have too much shit. But maybe that's just sour grapes.
Well, off to the store. I'm making fish tacos later, and we'll watch the playoff games with friends and family. (Geaux Saints! Go Colts!)
What are y'all up to? Please feel free to discuss your philosophy on domestic help, your plans for today, football or whatever.