Freshly brushed (I swear I like brushing him more than he likes being brushed, but he is just so silky smooth when he is done and I really like it because it calms me) and he immediately escaped to the highest peak on his cat tower: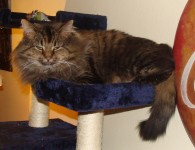 Amusingly enough, his mane is enormous all the time, but when I go all pusher man and get him nipped out, I swear his mane gets wider and wider: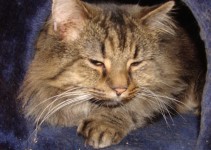 This is where you all admit that I, with a little bit of effort, in the attempts to shut you all the fuck up, have become much more adept with the camera. Say it, god damnit. Say it like you mean it, assholes.
Walt and I just watched Spaceballs (he'd never seen it, horror of horrors) and had some tea, but he left and now I am wired, so I think I might watch some Arrow on blue-ray. Other than if Lily puts a wet nose in the armpit, I have no intention of getting out of bed until 11 am tomorrow, and it is going to be glorious. I intend to sleep so long my back is stiff when I get out of bed. You olds know what I mean.
BTW- it occurred to me that I have been really nice to you all lately, and I need to nip that shit in the bud before you guys go all soft on me.