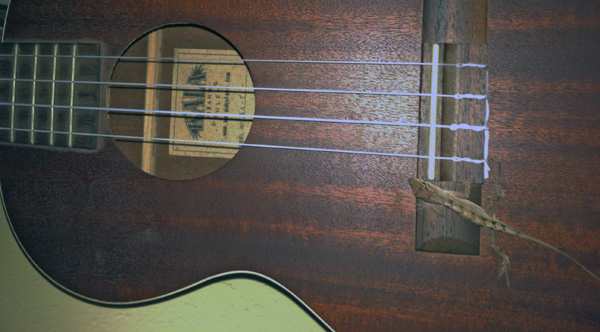 One of the perks of working at home is that you can play a musical instrument for relaxation when you take a break. I am a very bad ukulele player, but playing relaxes me.
Unless a fucking lizard leaps up out of the sound hole, that is; then, it's not relaxing at all but actually terrifying for the millisecond it takes to realize that the organic life form that has just hurled itself from the interior to the surface of the instrument you're cradling isn't something scary like a snake or tarantula but just a small lizard, but shit, now that you've bellowed like a ruptured cow in fright, the dogs are racing to see what's wrong, and they'll eat the poor lizard, so damn, you've got to find a way to expel the intruder before they notice it, so maybe if you just sprint to the door holding the uke straight out, the lizard will stay where it is until you get on the porch, but fuck no, of course it runs up the neck of the uke and jumps onto your torso as if you were a tree trunk, but goddamnit, at least now you're outside, so you can attempt to shake it off as it runs from your shoulder to your boob to your side then onto your back, presumably, since you can't see it anymore, so you just jump around on the front porch while flailing your limbs (still clutching the uke in one hand) and pray to jeebus that no one happens to drive by and see you having an apparent seizure while holding a ukulele.
Then it's not relaxing at all. Especially when you get back inside and prop the instrument against the wall – your practice session now irretrievably interrupted – and the fucking lizard comes back out of the sound hole. Or perhaps that's its mate or one of an entire colony of goddamn lizards who have taken up residence in your ukulele. Fuck.