I had to get a new phone (I'm too fatigued to even go into details), so I picked up a 5s today, and I think the camera might be better (and no, I have not read up to find out if the camera is actually better- see previous parenthetical):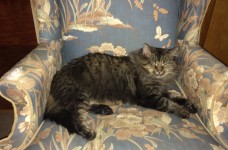 Click to embiggen to check out if I am actually getting better at this photo shit.
And, also too, in before the haters. Yes. I know the chair is hideous looking. I am well aware. It is, however, a wonderfully constructed wingback that I do intend to reupholster one day. Additionally, it was Tunch's favorite chair, and by favorite, I mean he loved to shred the shit out of it and then climb up and sleep on it, and since it used to be in my office, he spent a great deal of time there. In fact, I loved it when he was there because it meant he was not on my keyboard or attacking my hand.
At any rate, I moved it into the hallway one day after His Fatness died when I was doing a big clean on my office, and it was right after I got Steve, and he just took to the chair. He had been hesitant to leave his room after having his boys removed just a few days after coming into a new house, but he liked to sit underneath the seat in the hallway. Now he likes to lie on top of it and sleep for hours on end.
Making this even better, it's seriously the first thing when you come into the house: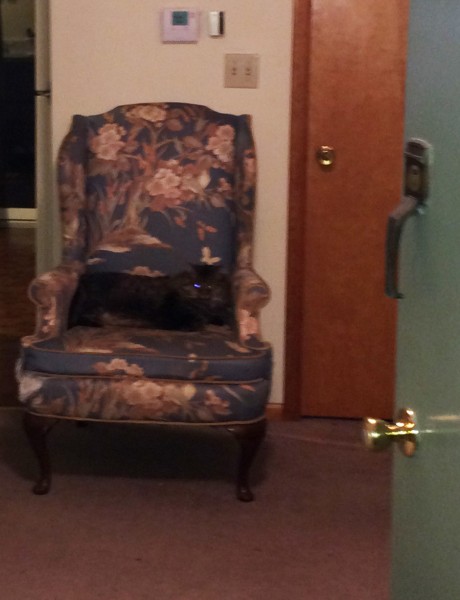 I remember watching a documentary a couple years ago on one of the pay channels about fashion designers, and one story they told was about how one of them (Lagerfeld, who knows?) had a large bed in the entrance to his house, where he would lie and as people entered, he would greet them. That's what I think Steve is doing, in his own way.
At any rate, I know it is ugly and shredded and kind of an eyesore, but he likes it, so that is good enough for me. I'll just have to have it reupholstered when he is away for a day or two- maybe when he gets his teeth cleaned in a couple years. We can work around these little things. And that is all I have to say about that.