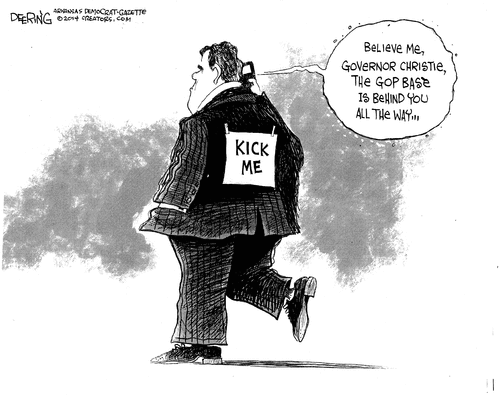 (John Deering via GoComics.com)
Thing about succeeding as a Public Bully, even the people who stand to profit from the bully's success don't have much reason to defend him when his luck changes. And, of course, those on the other side won't have much reason to hold back their glee. Steve Kornacki takes a modest victory lap at MSNBC:
The New Jersey mayor who publicly claimed this weekend that Gov. Chris Christie's administration tried to withhold hurricane relief funds met Sunday in private with the U.S. attorney for the state of New Jersey.

"This afternoon I met with the U.S. Attorney's office for several hours at their request and provided them with my journal and other documents," Hoboken Mayor Dawn Zimmer said in a statement Sunday. "As they pursue this investigation, I will provide any requested information and testify under oath about the facts of what happened when the Lieutenant Governor came to Hoboken and told me that Sandy aid would be contingent on moving forward with a private development project."…

"The bottom line is, it's not fair for the governor to hold Sandy funds hostage for the City of Hoboken because he wants me to give back to one private developer," Zimmer said in an interview on UP w/ Steve Kornacki. ….
At Slate, Dave Weigel has some more unpleasant tales "Updating the Christie Petty-Scandal Registry".
Rachel Maddow uses her monthly Washington Post column to highlight the abiding pettiness of Christie's inner circle:
If you type "Shawn Boburg" into your Web browser address bar, a strange thing happens. Boburg is a reporter for The Record newspaper, in Bergen County, N.J. But ShawnBoburg.com sends visitors to The Record's rival, Newark's Star-Ledger.

The man who bought the rights to Boburg's online name — and who presumably engineered the nasty little redirect — is David Wildstein, who last week became the country's most high-profile political appointee. After his high school classmate Chris Christie was elected governor of New Jersey in 2009, Wildstein was appointed to the Port Authority of New York and New Jersey for a highly paid position that, conveniently, had no job description…

According to reporting in The Record, Wildstein has made a habit of buying the Web addresses of people who cross his path in New Jersey politics — including the Democratic candidate for lieutenant governor in 2012 and a mid-level official at the Federal Aviation Administration who helped forge a firefighting agreement with the Port Authority that Wildstein disliked. While he was at the Port Authority, Wildstein bought the online names of New York Gov. Andrew Cuomo's top appointees to the agency, including Executive Director Pat Foye, who sounded the alarm about the Fort Lee scheme. Wildstein's redirect on PatFoye.com sends visitors to the Web site of the New York Yankees.

It's one thing for public officials to subject one another to that kind of low-level, neener-neener harassment, but in New Jersey, reporters have been targeted too. Wildstein snatched up and redirected ShawnBoburg.com after Boburg wrote a (not terribly unflattering) profile of the intensely private Wildstein last year and an article on Christie's patronage hiring…
To put the cherry on Christie's terrible-horrible-very-bad-no-good-week, the timing could hardly be worse. Steve Karnicki, again:
… The allegations against the Christie administration caught the Republican governor just as he was on a fundraising trip to Florida over the weekend. The trip, alongside Republican Gov. Rick Scott, could have been an opportunity to showcase Christie's star power and cement relationships with potential donors; Christie has left the door open to a presidential bid in 2016, and now wields new influence as the freshly-minted head of the Republican Governor's Association. Instead, the governor kept his activities and appearances in the Sunshine State under wraps…
As Mr. Charles P. Pierce, Esquire, said on Friday, concerning a Romney fundraiser's intemperate remarks about Mr. Christie:
… Part of me wants to point out that, apparently, the utterly self-centered cluelessness of the candidate spread pretty widely throughout all levels of the Romney campaign. (Christie was supposed to let his constituents fight each other for bottled water rather than accept help from the federal government? People on the Jersey Shore were supposed to live in lean-to's until Willard closed on that new place in D.C.?) Part of me wants to point out that this is yet another indication that the prion disease afflicting the collective brain of the Republican party rages unabated. But a much bigger part of me wants to laugh and laugh until I fall down.