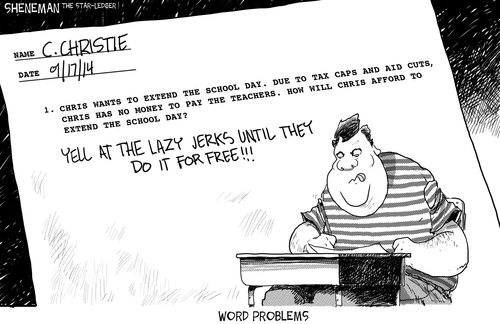 (Drew Sheneman via GoComics.com)
.
Seems like to know Christie is not to love him, per NYMag:
… Among people who have heard of the scandal, the new survey found 58 percent don't believe Christie's claim that he was duped by treacherous aides. And while Americans have learned more about the governor, they don't like what they see. Christie's favorability rating is essentially unchanged from a year ago – dropping from 40 percent to 38 percent – but many who previously had no opinion of the governor now dislike him. Thirty-four percent view him unfavorably, compared with 17 percent a year ago…
Details at the link.
There's a chance Christie could ignore mere polls — they change! it's a long time till 2016 or an indictment, whichever comes first! — but Jon Chait gleefully reports that "Jennifer Rubin Has Moved on From Romney Worship, Now Worshipping Chris Christie".
Of course, we can't be absolutely sure Christie's toast until Bill "Alway Wrong" Kristol checks in to defend him, but as of this moment his future prospects don't look so great…