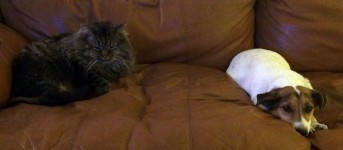 Long time readers know that I would love to be followed all day long by back-up singers to accentuate my brilliance at appropriate times with snazzy dance moves and background vocals (think John Cole and the Pips), but I may be convinced to be followed by a poet ala a Knight's Tale after seeing this from BrucefromOhio:
Steve, he's Maine Coon
To me, he's the best boon
Shave, I would try soon
Though I might die soon

Now he's not like the last cat
Who was, oh, so mostly white and fat
But le maintenance delicat
Brings out the best of any cat

Please don't, don't, don't
Feel I'm not aware of that
Please don't, don't, don't
Swear and bleed because of that
Shaving the ass of my pu$$y cat

YES! I BLEED!
YES! I NEED!
YES! YOU DECREED
I should remain clear of thee
Treats and nip and coverlet
Insufficient to cover it
Pink skin, my wounds are legion
From trying to shave your nether region
I could totally get into all of my idiotic exploits and residential disasters being turned into verse.
Also too, if you haven't already, don't forget to pick up your Pets of Balloon Juice calendar for 2014.