This must be the most awesome truther conspiracy ever: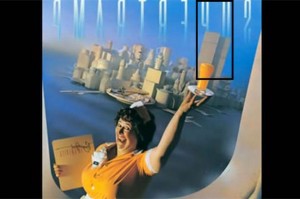 Album came out in 1979
9/11 reference
9/11 was served with breakfast … not to mention the everyday fight for freedom: "Breakfast In America."
Orange juice = fireball
You are looking out of the window of a plane, she is showing the target.
Update. Yes, the image has been oriented backwards. That way the "P U" looks like "9 11". It's part of the evidence for the conspiracy.