I am being completely serious when I say that everything Steve does is awesome. His newest thing is that every time he walks into the room he is in, instead of quietly slinking in, whenever he crosses the doorway, he lets out a big MEOW, and with his winter mane it's like I have a lion stalking me in my house. The other thing he does that I love is every morning when I wake up, before the girls get up to potty, I call for him and he comes running and jumps up into bed and lets me pet him for ten to fifteen minutes.
At any rate, it's really hard to be stressed out when you are in a bathrobe and slippers in a lazyboy, sipping hot chocolate, watching TDS with a dog on your lap and this snoring next to you on the couch: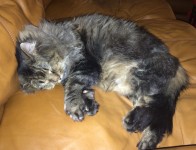 I keep expecting to wake up in the morning and see a spider's web above his head that says nothing but "Some Cat."
*** Update ***
I will never get over the size of his paws and how he uses them like hands: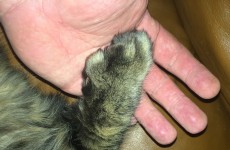 Just crazy. Not sure how I go bigger than Steve without adopting a bobcat.