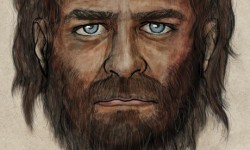 DNA taken from the wisdom tooth of a European hunter-gatherer has given scientists an unprecedented glimpse of modern humans before the rise of farming. The Mesolithic man, who lived in Spain around 7,000 years ago, had an unusual mix of blue eyes, black or brown hair, and dark skin, according to analyses of his genetic make-up…
And, yes, the blue eyes/mahogany skin combo isn't that uncommon today — even though most of the people I've known with that phenotype claim a German background, one of my own siblings stands out in a tribe of otherwise stereotypical skim-milk-pale freckled Irish-Americans.
Apart from Mesolithic political jokes, what's on the agenda for the evening?