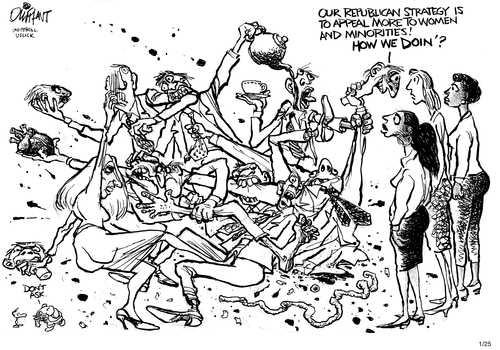 (Pat Oliphant via GoComics.com)
In the spirit of Confusion to Our Enemies!, some SotU schadenfreude to start the week:
WASHINGTON — The protocol is staid and formulaic. The president addresses Congress on the State of the Union, then the opposition party's designee follows with a reply…

Not this year. The response, a once careful attempt at stagecraft fashioned under the close watch of party chiefs to be as uniform and on message as possible, has given way to political free agency…

For example, Senator Rand Paul, Republican of Kentucky, plans to spend part of Tuesday in a television studio off Capitol Hill recording his own unsanctioned rebuttal to Mr. Obama's address that night. His staff plans to blast the video to news outlets around the world, and to the hundreds of thousands of people the senator reaches online through Twitter, Facebook and Snapchat.

Senator Mike Lee, Republican of Utah, will have top billing for the newest — and to some Republicans the most unwelcome — post-State of the Union event, the official Tea Party response.

Senator Ted Cruz, Republican of Texas, not content to wait until Tuesday, got rolling last week when he released a statement in which he demanded that Mr. Obama answer accusations on a variety of issues, including National Security Agency surveillance and the Affordable Care Act. He then followed up with a letter to Attorney General Eric H. Holder Jr. asking for a special prosecutor to look into accusations of political persecution by the Internal Revenue Service.

Competing with them for the soapbox will be Representative Cathy McMorris Rodgers of Washington, the fourth-ranking Republican in the House, who is to deliver the party's official response.

"There is no clear leadership in the Republican Party right now, no clear direction or message, and no way to enforce discipline," said Mark McKinnon, a veteran Republican strategist who has become an outspoken critic of his party. "And because there's a vacuum, and no shortage of cameras, there are plenty of actors happy to audition."…
Apart from wondering if "Popcorn Futures" should be a new category here, what's on the agenda for the start of another week?