Like many of you cat owners and lovers, I have a cat toy like this:
I've tried to play with it and Steve, and he usually just gets pissed off. So it's been lying on the floor by his cat tree unattended and unnoticed forever. Until tonight, when I got him smacked up on catnip balls, and he took it on himself to play with it and got it all tangled, and then proceeded to streak around the house as if he had been assaulted. He somehow had it woven around his body and his back paw so that when he moved the plastic stick would hit him in the ass, which would make him move faster, which would hit him in the ass again, etc.
As a seasoned cat owner I realized getting anywhere near him would lead to bleeding, regret, lies, and hurt feelings, so I did what anyone would have done. I took pictures: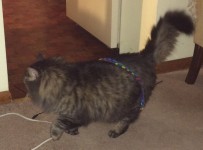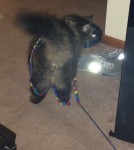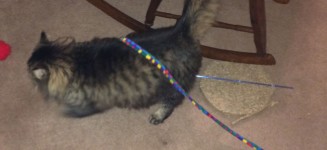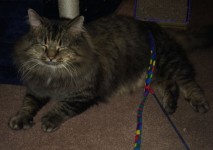 I like how in the last picture he's just given up and is totally resigned to his fate. That was when it was safe enough to extricate the toy from his Highness with minimal collateral damage (translation- no bleeding for the humans).
I'll read the SOTU and the GOP responses (how fucking many are we up to now?) tomorrow, but I am betting they will be less coherent than Steve's behavior with a toy strapped to his leg and ass. You can bank on it.