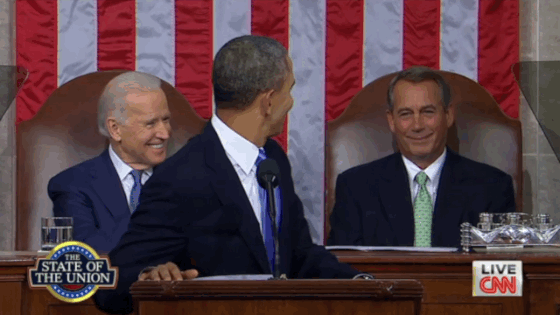 "the son of a barkeep is Speaker of the House".
Best critique of last night's SotU address that I've seen so far comes from Mr. Charles P. Pierce:
… Once again, he was the only obvious president in the room, much good may that do him. He did not rile up the base. He was not combative. He did not dwell on issues that his base wanted to hear. (If you had "Keystone XL," or "NSA," or "TPP" in your State of the Union drinking game, you probably wound up as the designated driver.) But he was firm on one thing. He is not going to be a lame duck as long as he can still walk. There were a lot of sentences that began with some variation of, "If Congress won't act…"

This promise to use the powers of his office is what likely is going to raise all those hackles that were going to be raised in any case unless he got up there and abdicated in favor of Mitt Romney but, really, he couched these assertions in the mildest fashion, making of himself just a guy who was just trying to do the job to which he had been elected. He would like to have done it a different way but, darned it the regular way just didn't work, and now it's time to take out the tire iron and give the old machine a good bash. There wasn't a scintilla of anger in his voice all night. There was just a rueful tone to it, as though he had finally gotten the joke that history had played on him with the election in 2010 of the opera boufee that is our current House of Representatives…

He was extraordinarily strong in spots, particularly on voting rights, where he plainly had a lot to say, and said it all, and on the process of getting the country off what he rather daringly described as the "permanent war footing" it had been on since 2001. Some of the economic ideas, particularly the expansion and strengthening of the Earned Income Tax Credit, were sound and worthy of immediate action, which they won't get. I'm still a little vague on the MyRA thing, which smacked a little bit of the gimmick, and which, in any case, is just another stop-gap by which the country can forget that, once, everybody had a guaranteed pension, before the unions broke down and the sharpers on Wall Street looted what was left.

But, if this speech burned no barns, it didn't sound anything like a last chance, either. The president seemed to have a pen in one hand, and that well-worn olive branch still in the other. He is what he always has been, the coolest head in the room. You can never say he isn't that.
***********
What's on the agenda for the start of another day?