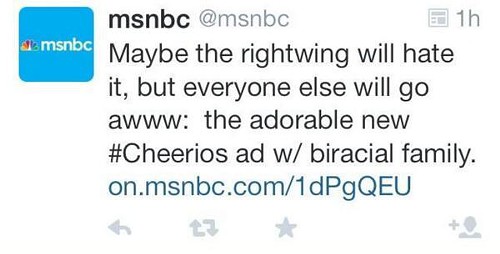 Dan Savage has some sound advice for MSNBC after their tweet above:
OMG! MSNBC called all conservatives haters! MSNBC quickly deleted the tweet and apologized. Fox News never apologizes. Write a book that calls all liberals treasonous, write a book that calls all liberals fascists, and you are a welcome guest on Fox News. Send out one stupid, poorly-worded tweet—a tweet that got it half right (not all conservatives are angered by interracial families, but almost all people angered by interracial families are conservatives)—and Fox News won't rest until you're named, shamed, and fired.

Some advice for MSNBC: You deleted the tweet and you apologized. No firings this time, no tearful on-air bonus apologies, no soul-searching theatrics. Move the fuck on. Lean the fuck forward. Whatever the fucking fuck. But no grandiose acts of contrition, please, as that's just blood in the water. People don't berate Fox News for apologies, or demand that hateful idiots on the Fox News payroll be fired, because everyone knows it's a waste of time. Fox News does not apologize when it fucks up. People don't get fired for being idiots. (To the contrary, people get hired for being idiots.) MSNBC apologizes when it fucks up (me too!), and that's to your credit. But don't keep apologizing after you've apologized. That's fucking stupid.
One more thing: if MSNBC or some other liberal target hadn't said something negative about conservatives in time for Fox's latest deadline, they would have just made it up. It's stupid to over-apologize to your enemies, but it's doubly stupid to to over-apologize to an enemy that takes offense at everything.
(You can watch the Cheerios ad on Savage's blog.)