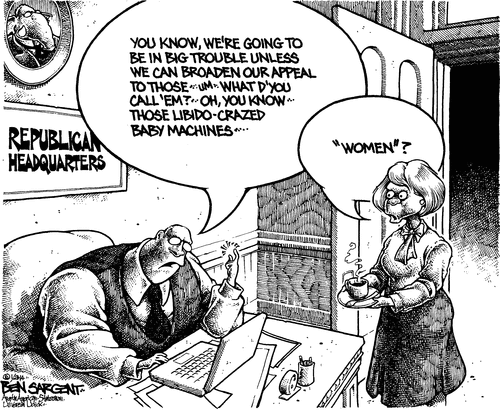 (Ben Sargent via GoComics.com)
I thought we'd finally beaten down the GOP's "real live sooperwimmen" fantasies from back when Reagan rode off into the sunset, but there is no bad idea Repubs won't try to resurrect. Ann Friedman, in NYMag, on the GOP's New Vagina-American Rising Star:
… The fact that McMorris Rodgers was selected to respond to the president's annual address has been widely explained as the GOP's "new way" of counteracting the fact that prominent Party members appear to have been media-trained by Todd Akin.

But the Republicans' decision to focus on McMorris Rodgers's mommy cred illustrates just how little they understand about their woman problem. They're responding to what they see as a superficial problem — offensive quotes about unchecked libidos and "victimology" — with a superficial solution. True, Rand Paul and Mike Huckabee aren't helping the Party win female hearts and minds. But their gaffes are just symptoms of the underlying issue, which is that the policies the GOP advocates do nothing to improve the lives of the majority of American women. And we know it…

The Party is decades behind in its gender messaging — not to mention its actual policies — because it's not actually representative. Only 8 percent of House Republicans are women, and there are only four Republican women in the Senate. This gives McMorris Rodgers and her ilk higher visibility, but also places greater pressure on them to fall in with the party line. It's a dynamic that any woman who's been outnumbered in the workplace can relate to. Just because prominent GOP moms manage to have a demanding career while raising three small kids doesn't mean they can be trusted to make the same thing easier for other women.
Dahlia Lithwick, in Slate, takes it a step further:
… The new GOP attack on women who feel they are being attacked by Republicans? Trash Democrats as the party that sees women as wimpy wallowers in their own victimhood…

The unifying theme here is that real women are meant to resent being called victims, and we should all rise up against Democrats who belittle and demean us by trying to solve our problems. I get the surface appeal, I suppose. Who wants to be called a needy, pathetic weakling? But forgive me for thinking that this is one of those slurs that only works best—to the extent it works at all—when men say it about other men. Calling someone a big wuss is still, I imagine, a good way to get yourself clocked at a biker bar. But telling a bunch of women that the Democrats think they're all a bunch of women, well … maybe it works on Sarah Palin.

The deeper problem with the "You're not disadvantaged at all, little lady!" meme is, of course, obvious: Even women who are not personally suffering from major structural gender disadvantages are pretty well aware that many other women are; women have been disadvantaged throughout American history; and those disadvantages persist for a lot of women, even as we all work to transcend them.

Also, one of the major structural disadvantages from which American women continue to suffer is condescension and hectoring from clueless elected officials….