Just spent the last hour and a half watching the drunks stream out of the bar, and I am pleased to announce that while I did drink tea while holding a walking stick, I did not yell at any one, none of the girls were in any danger that I could tell (I mean the college girls, not Lily and Rosie, as no one was being "escorted" back to the frat houses after having obviously had too much to drink- you all know what I mean and what I am keeping an eye out for, so stop making me explain myself), and people seemed drunk and tired and not drunk and rowdy.
Back to the point of this post, which is to bring you pictures of one fucking special cat who has taken to his cat tree like it was his job. Here he is in all his glory, living up to the standards of Tunch beyond my wildest expectations: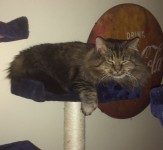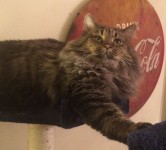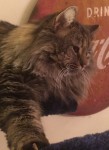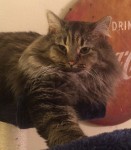 Presence, he has it. He's more magnificent in person.