Via exceptionally sharp young journalist Taylor Dobbs, this story of the efficiency and national security value of military procurement:*
The Dayton Daily News reports that the Air Force has spent some $567 million to acquire 21 new Spartans since 2007, but has found that the Air Force does not have missions for many of the aircraft.

The planes had originally been acquired because of their ability to operate from unimproved runways. But sequestration forced the Air Force to re-think the airplane's mission, and it determined that they were not a necessity, according to an analyst with the Project for Government Oversight.

…An Air Force spokesman said the program was "too near completion" to be able to terminate the program in a way that does not cost the taxpayers more than building the airplanes and sending them immediately to the boneyard.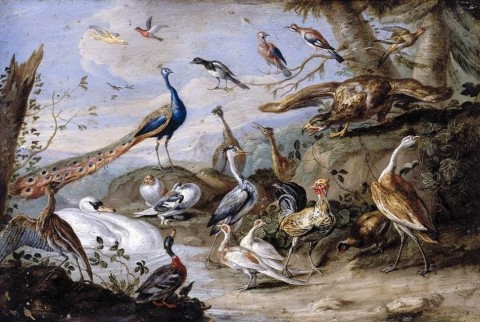 An alternate headline would  — should, in fact — go something like this: "Legislators Find Alternatives To Food Stamp Cuts"
Yeah…I'm dreaming.
One more thought: the fetishization of (genuinely brave and self-sacrificing) members of the military is cover for sh*t like this.
Image: Jan van Kessel, Birds on a Riverbank,  1655.
*Proper link added after initial brain bubbles led to blogger-failure, and then real life prevented repair for some time. Apologies.