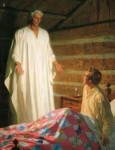 This will never get anywhere, but I like the idea:
Legal experts gobsmacked after British judge orders Mormon leader to prove faith's origins

A disgruntled former Mormon has convinced an English court to file two summonses to appear against Thomas S. Monson, the current president of the Mormon Church.

Tom Phillips based his complaint on the Fraud Act of 2006, a British law that outlaws making a profit off of false representations. According to Phillips, this is precisely what the Mormon Church does — it uses statements it knows to be factually untrue in order to secure tithes from members of the Church.

The facts in question, court records show, are tenets of the Mormon faith, including that Joseph Smith translated The Book of Mormon from ancient gold plates, that Native Americans are descendants of a family of Israelites, and that death didn't exist on this planet until 6,000 years ago.

"These are not statements of mere 'beliefs' or opinions or theories," Phillips wrote. "They are made as actual facts and their truthfulness can be objectively tested with evidence."
Sometimes, companies that make absurd claims to shake down people for money are prosecuted for fraud. If their CEOs had any sense, they'd claim a talking hat gave them the product formula. Then they'd not only be off the hook for fraud, they wouldn't have to pay taxes either.