The mister and I come from hearty bowling, hunting and fishing stock and aren't into genealogy. Since our ancestors were a motley collection of Eastern European peasants and Anglo-Saxon brigands, we feel certain that the "coat of arms" images and "family mottos" the hucksters at the fair try to sell to us on engraved plaques are randomly generated crap designed to fleece more credulous bumpkins than ourselves. We believe our true coat of arms would look something like this: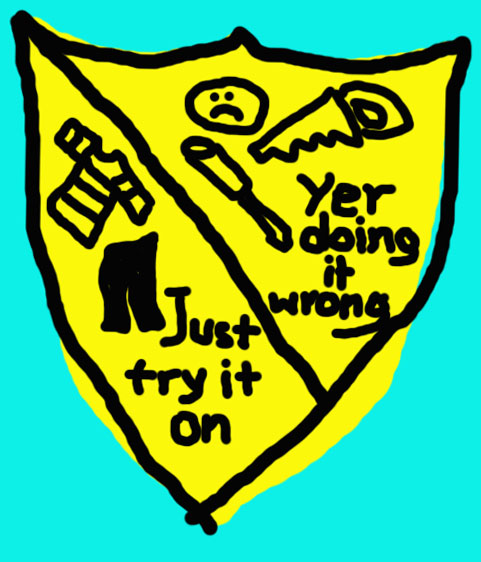 Ever heard of the Sandwich Generation? I never thought much about it until I joined it a couple of weeks ago, but I propose a name change: Shit Sandwich Generation. Because it sucks. Hard.
Speaking of shit, iTunes needs to redo their interface or something, or maybe my kid needs to get her goddamned hippity-hop and pop bullshit out of my music library and quit fucking with the settings.
I went on there a little while ago to create a playlist to make the three hour drive in the rain I'm to undertake later a little less tedious, and BOOM, it's an unrecognizable hash of Black Veil Brides, Ke$ha, Kanye and all this other crap where my B-52s and Little Feat are supposed to be. Goddamn it. Lawn, vacate, etc.
What are you up to today? Also, can anyone direct me to a good recipe cache for people on sodium restricted diets? In cooking for my ailing mama, I've discovered that salt really is the most important weapon in the kitchen arsenal — or it was in mine, anyway. I would have guessed bacon grease, but same difference.