I suppose that some people might be intimidated by living with a bobcat, especially one who spends the majority of his time surveying his lands and looking down on his minions from his cat tree, but I find it oddly comforting having a benevolent kitty dictator watching over me: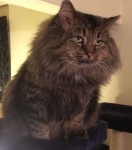 I am so infatuated with this beast- his mane, his soulful eyes, his coat, his massive paws, his constant chirping. This is really quite some cat, and I love that he spends his time on the tower looking down on everyone. HE'S USING THE SHIT I PAID FOR AS INTENDED. This is new territory for me and felines.
How do I keep hitting the lottery with these cats? I should probably start a career placing cats with people.