It seems like we haven't had a book post from me in a while, dears. I certainly have a backlog of books to tell you about. First, however, some music to get you in the mood. How about the wonderful Wasting My Young Years, from London Grammar…
or perhaps TR|PW|RE, a lovely swirling, bouncy track by commenter nastybrutishntall.
I've just finished The Days of Anna Madrigal, by Armistead Maupin. This is the ninth book in Maupin's Tales of the City series. If you haven't had the pleasure of Mr Maupin's tales, then this isn't the book for you, and you should immediately hie yourself to a bookstore and begin at the beginning, where all good stories start, back with Mouse and Brian in the popper and dope-smoke fug of the sexy seventies. If you have been following along then, happily, The Days of Anna Madrigal is a triumph. Anna may be 92, but she still likes a toke and a dance (honestly, who thinks of these things?), and her swansong is a gentle, bittersweet trip into the past and present for Maupin's finest creation.
I'm making my way through Greg Ross' Futility Closet. Subtitled "An Idler's Miscellany of Compendious Amusements", this book is a joy, not least for its … well, compendious (and fully hyperlinked) index, a masterpiece of the form which contains such gems as:
cats
authoring papers, 67
befriending racehorses, 74
besetting airships, 19
denoting verbs, 140
governing Bombay, 187
piloting bowls, 216 …

dogs
dusty, 174
faithful, 102
marauding, 145
self-mailing, 42

Also well worth your time are Alastair Reynolds' Blue Remembered Earth, a sprawling, operatic romp that rockets all over our solar system and beyond, and his Doctor Who novel, Harvest of Time, which brings Roger Delgado's Master thrillingly back to life while (importantly) making sure the character is still just a tiny little bit crap.
If you like police procedurals and have a taste for ghosts and gods and monsters, then have a look at Ben Aaronovich's Rivers of London series. Aaronovich's London is perfectly evoked, and his characters get down and very dirty in the tunnels that lie beneath that stinking shithole of a city. (Thanks Tom!)
If tentacles and forebodings of doom are more your thing, then I heartily recommend Innsmouth Magazine – a thrice yearly collection of Lovecraftian tales.
TV-wise, I confess that I have been making heavy use of my AppleTV to keep myself sane until Game of Thrones and Broadchurch return, mainly because Australian television is far worse than you can imagine – a heady mishmash of bogans cooking, yellow people having their luggage searched, footballers in blackface, and current affairs shows that make Murdering Joe look like Edward R. Murrow.
I particularly enjoyed Utopia. Starring, amongst others, James Fox, Stephen Rea and the luscious Geraldine James, Utopia tells the story of a group of geeks who discover a global conspiracy hidden in the pages of a lost graphic novel. It's incredibly, graphically violent, and beautifully shot in vibrant reds and greens. Best of all, it pays off every story thread in six taut, tight episodes. See it before some American remakes it and sucks all the pleasure out of it.
I love a bit of murder and a good frocking, and so I have been making my way through both Miss Fisher's Murder Mysteries and Ripper Street.
The first is an adaptation of Kerry Greenwood's Phryne Fisher mysteries that lovingly recreates Melbourne between the World Wars, with lashings and lashings of blood, handsome policemen, shameless (but tastefully shot) rumpy-pumpy and the most gorgeous costumes you're likely to see anywhere. It's the kind of thing for which the term "frippery" might well have been coined – a glittering jewel to behold.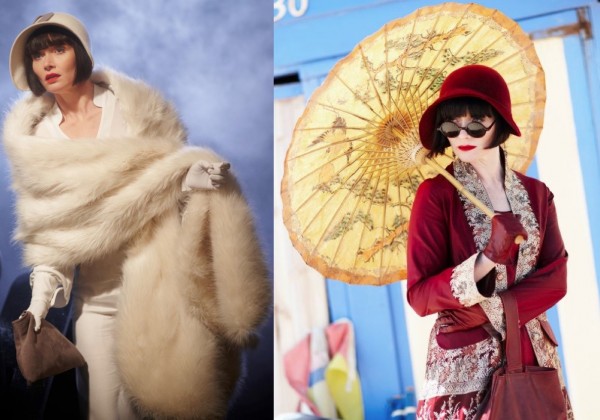 Finally, Ripper Street. Set in Whitechapel in the aftermath of the Ripper murders, this series doesn't flinch from the muck, poverty and corruption of Victorian London. Matthew Macfadyen is perfectly stoic as the head of a fine cast, but for my money it's Jerome Flynn's magnificent turn as the lovelorn bruiser Sergeant Drake that steals the show.
So, what else should we be reading and watching?