…I can imagine saying to this:
"There's necessarily no reason to open carry," he said. "Rosa Parks didn't really need to sit where she did."
That's the owner of that Beaumont, TX gun shop that sent out a signboard guy wearing a banana suit who happened to be open-carrrying an AK-47.*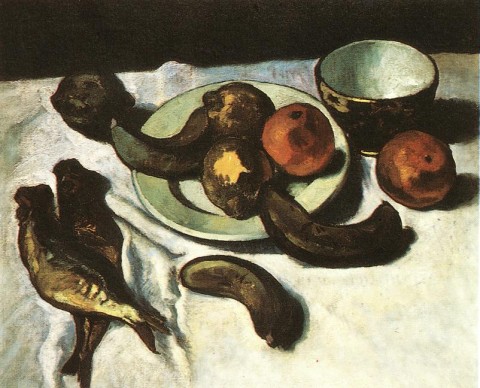 I get it.
Actually, I don't.
Wondering around the streets with a high-powered rifle is just like refusing to accept the explicit tyranny of the Jim Crow south….
Uh…
No…
WTF do you do with that?
I got nothing.
*The idea behind the banana costume, by the way, "was so he would look less alarming."
Ponder that for a moment.
Maybe I've led a sheltered life, but if I saw some guy in a bright yellow cone-topped costume out on the street, gesticulating with an assault rifle to hand, I'd find that…
…a tad perturbing.
Just me, I suppose.
Image:  Dezső Czigány, Still-life with Bananas, Oranges and Fishes, c. 1910