Via Salon, we learn what a Colorado Republican state senator — who took office in the wake of a recall of a Democrat who favored limits on gun magazine capacity — had this to say in support of the bill he introduced to overturn the large magazine ban:
A nearly identical law has already been voted down in the Dem-controlled Colorado state House of Representatives and is certain to fail in the state Senate, which is also controlled by Democrats. But the state Senate held a hearing on Herpin's bill all the same.

It was during this hearing that Herpin made his unfortunate remarks in response to a question from a Democratic senator on the committee.

"My understanding is that James Holmes bought his 100-round capacity magazine legally," said Sen. Irene Aguilar. "So, in fact, this law would have stopped James Holmes from purchasing a 100-round magazine. I was wondering if you agree with me."

"Perhaps James Holmes would not have been able to purchase a 100-round magazine," Herpin responded. "As it turned out, that was maybe a good thing that he had a 100-round magazine, because it jammed. If he had four, five, six 15-round magazines, there's no telling how much damage he could have done until a good guy with a gun showed up."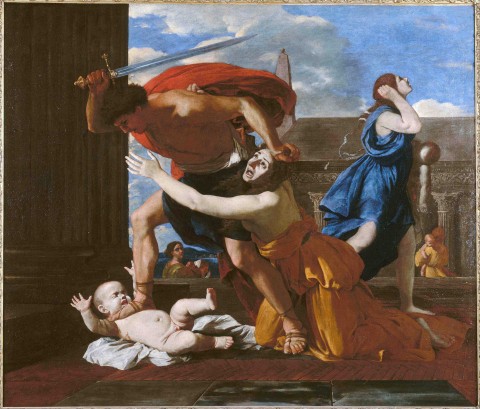 Uhhh.
Once more, I got nothing.
Or rather — I have no idea what must take place in an allegedly sentient being's mind that would allow that person to say such a thing.  My sympathy goes to every friend and family member of those murdered in Aurora, and insulted by Senator Bernie Herpin.
Image:  Nicholas Poussin, The Massacre of the Innocents, 1625-1626.