Just over a month ago, I posted about Judge Robert Shelby's erudite decision in Kitchen v Herbert which overturned Utah's constitutional ban on same-sex marriages. In that post, I mentioned that the same sex couples, in their stay submissions, provided a listing of 25 current state and federal lawsuits, covering fifteen states, challenging state laws banning same sex marriage.
Amongst them were the cases of Bourke v. Beshear in Kentucky and Bostic v. McDonnell in Virginia, both of which have been decided in the last two days.
In Kentucky on February 12, Judge John G. Heyburn of the US District Court Western District of Kentucky (appointed by Dubya Daddy Bush, for those who are keeping score) found (pdf) that the provisions of the Kentucky constitution and statute which which provided that the state could not, and need not, recognise same sex marriages solemnised outside Kentucky violated the Fourteenth Amendment, and were therefore invalid.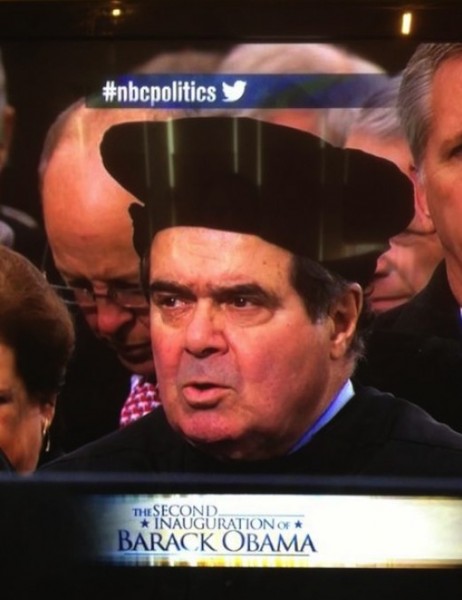 Mark Joseph Stern at Slate notes that Judge Heyburn's decision is similar in many ways to Shelby's, not least because Heyburn gets a good'un or two in on Tony Scalia, the betoqued-for-pomp-and-circuses Cassandra of the Supreme Court.
Heyburn (on page 13, if you want to revel) mimics Scalia's schtick in Windsor of rewriting Tony Kennedy's majority judgment to show how, with a few proper nouns and adjectives swapped in for others, Windsor is clearly authority for the proposition that same sex marriage bans of all kinds demean gay people, and that their only basis is that some random goatherder thought his god wanted to have a chat about the evils of shrimp, boils and bumsex.
On the next page, Heyburn cites Scalia's comment in Lawrence that:
"'preserving the traditional institution of marriage' is just a kinder way of describing the State's moral disapproval of same-sex couples."
It's all in good fun, at least until Fat Tony gets his anger on and ruptures a tube.
Stern says that, aside from giving Tony the finger, Heyburn's decision is "fairly predictable" and "follows the emerging pattern of these kinds of rulings: He wavers on the scrutiny question, finds that the law was driven by anti-gay animus, and strikes it on Equal Protection grounds."
This does a considerable disservice to Heyburn, whose decision is elegantly argued, compassionate and forthright.
In essence he says that the same sex marriage bans in the probably fail heightened scrutiny, and might perhaps be driven by animus against gay and lesbian people, but neither of those things actually matter. They don't matter because the laws also fail the much less onerous test of rational scrutiny – that is, that they must be rationally related to a legitimate government purpose – by reason of, and here's the tricky bit, not actually being rational or in any way related to a legitimate government purpose.
Judge Heyburn, one might think, is quite mindful that there is every chance Justice Kennedy will read his decision. He carefully outlines each of Kennedy's judgments which advanced rights for non-heterosexuals, Kennedy's arguments as they build to their logical conclusion – Kennedy writing a majority judgment overturning gay marriage bans nationwide.
So, as one can readily see, judicial thinking on this issue has evolved ever so slowly. That is because courts [sic] usually answer only the questions that come before it. Judge Oliver Wendell Holmes aptly described this process: "[J]udges do and must legislate, but they can do so only interstitially; they are confined from molar to molecular motions." S. Pac. Co. v. Jensen, 244 U.S. 205, 221 (1917) (Holmes, J., dissenting). In Romer, Lawrence, and finally, Windsor, the Supreme Court has moved interstitially, as Holmes said it should, establishing the framework of cases from which district judges now draw wisdom and inspiration. Each of these small steps has led to this place and this time, where the right of same-sex spouses to the state-conferred benefits of marriage is virtually compelled.
Before that fine ending, however, Heyburn does something even more important, as noted by Lyle Denniston at SCOTUSblog:
A noteworthy part of Judge Heyburn's opinion was a studied effort to explain to those who would be offended by his ruling, especially on the basis of their religious or cultural beliefs, why he was led to his decision as a constitutional matter. That section of the ruling read very much like a basic civics lesson about the way that the Constitution's protection of individual rights may sometimes override traditional moral and political preferences, and even trump the expressed wishes of a political majority.
The whole decision (pdf) is well worth a read, but pages 18 to 23 would arm anyone to politely and calmly argue down even the most determined godbotherer.
I have gone on, and left myself little room for the more recent decision – that of Judge Arenda L. Wright Allen, an Obama appointee from the District Court for the Eastern District of Virginia.
Hmmm. Crikey it's a dry old read. When it's not being purple, that is. Don't get me wrong, it's an impeccable decision, concisely (if such a term can be applied to any 41 page document) rebutting every possible argument against same sex marriage.
The lovely bit though? The bit that makes me think that Judge Arenda Wright Allen is my kind of gal?
Her decision opens with this.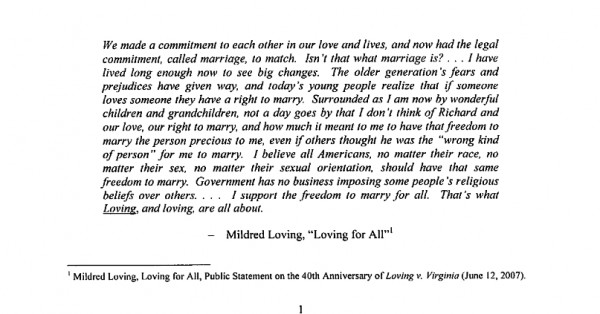 Cut. Print. This baby is done.