This is interesting and scary.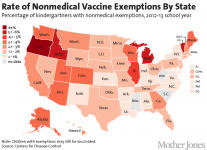 Non-medical vaccine exemptions are dangerous because they threaten what's known as "herd immunity:" Diseases simply can't spread in a community where a high enough percentage of the population is vaccinated against them. The required percentage of vaccinations to ensure herd immunity varies by disease; for pertussis (whooping cough), it's between 93 and 95 percent, according to Johns Hopkins' Jessica Atwell, lead author of a study on pertussis and vaccines published last year in the journal Pediatrics.
State laws about exemptions explain some of the pattern but not all of it (not especially easy to get them in VT or OR).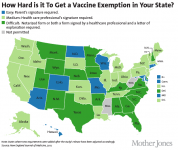 Don't blame Jeebus:
In one analysis he found that whooping cough rates in states with personal belief exemptions are more than double those in states that allow only religious exemptions.
Also, Mississippi and West Virginia are the only states that don't allow religious exemptions(!).