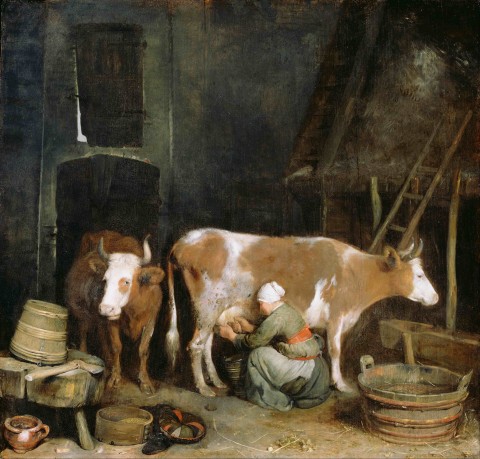 Just a quick reminder — following up on yesterday's post.  Harvard evolutionary biologist Katie Hinde and I will be talking on Virtually Speaking science about her work on lactation and the different strategies different species have evolved for nourishing sons and daughters; on the crap science journalism that follows in the wake of the study of anything that might allow tabloid headline writers to employ the words "breast" "mum" or "sex"; and, last but definitely not least, about a March bracket between — not groups of men and women named after animals — but the animals themselves,  an ecologically and physiologically correct NCAAs, if you will.
Coming up in just 15 minutes.
You can listen liv at 6 p.m ET or as a podcast later here. .
Live studio audience for the virtually minded folks at the  Exploratorium's joint in Second Life.
Hope y'all come.
Image: Gerard ter Borch, A Maid Milking a Cow in a Barn, c. 1642-4.