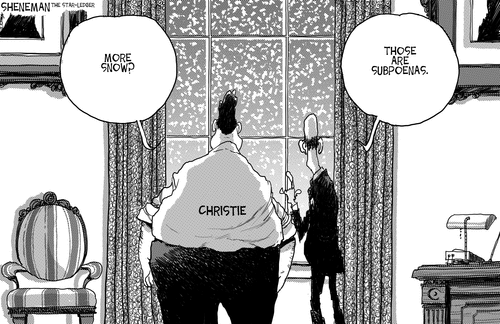 (Drew Sheneman via GoComics.com)
Some potential midweek entertainment, per Robert Costa:
After weeks of tightly managed public appearances, embattled New Jersey Gov. Chris Christie will revive his extemporaneous side on Thursday, holding a town hall meeting in Middletown, N.J. But the public forum, Christie's first such event since several of his advisers were implicated in a bridge-closing scandal, will probably be a low-key affair, with less of the swagger and made-for-YouTube confrontations that were once his political trademark.

The videos touting Christie's accomplishments and Garden State grit, which have opened past town hall meetings, have been shelved by his advance team. So have the banners advertising the Republican governor's slogans of the week. Happily tangling with teachers and Democratic critics, a favorite pastime for him during his first term, also isn't part of the plan.

Instead, the thrust of the meeting will focus on the state's recovery from Hurricane Sandy, the 2012 storm that severely damaged the state's coastline. Christie will open his presentation by discussing the latest $1.4 billion installment of federal rebuilding funds, surrounded by members of his Cabinet who will manage those dollars…
You can't buy love, according to the polls, but maybe Christie can negotiate some affection by pointing out how much he's done for Jersey voters, those ingrates…
***********
And here's another story about Tom Steyer, this time from the Washington Post:
Climate activist and billionaire Tom Steyer, who hopes to funnel as much as $100 million into the 2014 elections, will tell Senate Democrats on Wednesday night that they can use opposition to the Keystone XL pipeline to bring voters over to their side this fall, according to one of his advisers.

Steyer is hosting a "Blue Green Council Dinner" fundraiser for the Democratic Senatorial Campaign Committee at his San Francisco home Wednesday.

He will share data from a poll he commissioned that shows Americans care whether the oil shipped through the pipeline will remain in the United States and the extent to which Chinese investors stand to gain from the project's construction…

A slew of influential Senate Democrats will attend the session, including Majority Leader Harry M. Reid (Nev.), Sheldon Whitehouse (R.I.), Patrick J. Leahy (Vt.) and Benjamin L. Cardin (Md.), according to a copy of the invitation obtained by The Washington Post. Three others who are up for reelection this year — Mark Udall (Colo.), Jeanne Shaheen (N.H.) and Jeff Merkley (Ore.) — will also be there, the invitation says…
**********
What else is on the agenda for the day?