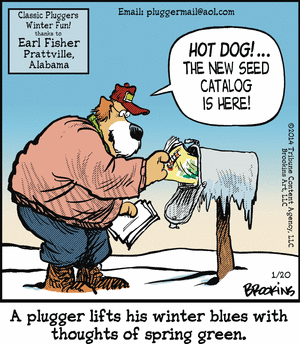 .
It's almost time for us Northerners to start seeds, if you've got the patience for that, and certainly time for planning this year's garden / ordering plants. So I'm making lists from the websites of my three standby mail order houses: Laurel's Heirloom Tomatoes, The Tasteful Garden, and Territorial Seed Company. (Not to mention ordering more of my new fav root pouches from A.M. Leonard.)
Two questions: Anyone here have an opinion on Lazy Ox Farms?
Second: Has anyone grown Paul Robeson tomatoes? Two years ago, I set out a plant… and got one perfect, exquisite, delicious tomato before the vine withered & died. Last year, I bought two plants, and set them out as far apart as I could in my tiny container garden; I got four or five lovely, delicious tomatoes before both plants simultaneously collapsed. The plants on either side remained productive, so it wasn't just the environment. On the other hand, 2013 was a crappy year for tomatoes around here — too much rain in the first part of the season, too hot in August/September. From what I've been able to find on the web, it seems like P.Robeson can be a tricky variety to grow. But it's sooo good, I'm planning to try again this year (and maybe start one new root pouch with virgin planting mix on the front lawn, which is the only other sunny area I've got).

What are you planning for your gardens, come Spring?
Any of you Southerners want to brag about your gardens, yet?