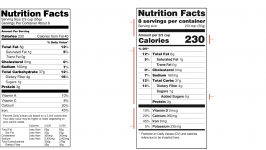 Having spent the last couple of weeks reading food labels more than anything else, I can tell you that these changes are very welcome indeed:
The Food and Drug Administration for the first time in two decades will propose major changes to nutrition labels on food packages, putting calorie counts in large type and adjusting portion sizes to reflect how much Americans actually eat.

It would be the first significant redrawing of the nutrition information on food labels since the federal government started requiring them in the early 1990s. Those labels were based on eating habits and nutrition data from the 1970s and '80s, before portion sizes expanded significantly, and federal health officials argued that the changes were needed to bring labels into step with the reality of the modern American diet.

"It's an amazing transformation," said Dr. Margaret A. Hamburg, commissioner of the F.D.A. "Things like the size of a muffin have changed so dramatically. It is important that the information on the nutrition fact labels reflect the realities in the world today."

The proposed changes include what experts say will be a particularly controversial item: a separate line for sugars that are manufactured and added to food, substances that many public health experts say have contributed substantially to the obesity problem in this country. The food industry has argued against similar suggestions in the past.

"The changes put added sugars clearly in the cross hairs," said Dr. David A. Kessler, who was commissioner during the original push for labels in the 1990s. "America has the sweetest diet in the world. You can't get to be as big as we've gotten without added sweeteners." Millions of Americans pay attention to food labels, and the changes are meant to make them easier to understand — a critical step in an era when more than one-third of adults are obese, public health experts say. The epidemic has caused rates of diabetes to soar, and has increased risks for cancer, heart disease and stroke.
I wish they would just make the damned labels BIGGER. Or, I could finally break down and go to the eye doctor and get bifocals instead of holding things up to the light and maneuvering my glasses and squinting. What I really wish they would do is give every product a qr code that would take you to detailed lists of the product, the ingredients and what they are- who the hell knows what acesulfame potassium is…