Have I mentioned how much better I've felt the past few weeks? I am never going back to my old way of eating. Ever.
Also, here is another reason to like Seth Rogen.
Also, too, this has been today's ear worm, courtesy of fucking Shawn, who was singing it this morning and got it stuck in my head:
Good night, peeps. It's so nice feeling good, isn't it?
*** Update ***
In what is probably the weirdest blogpost update in history, attached is a picture of my fingers since I keep talking about my knuckles: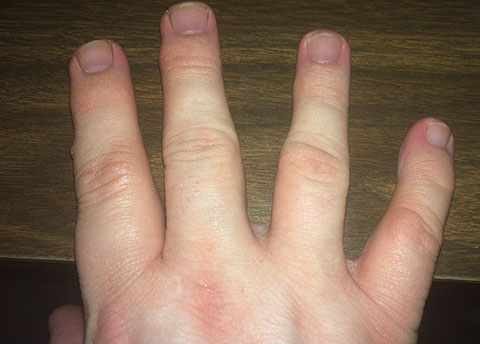 Now, before you gasp in horror at my mangled digits, I will remind you all that you have seen my broken meathooks before, and even though I am too lazy to look up pictures for comparison, I remember the collective horror in the comments section when I posted a picture of my hand petting one of my animals and many of you started screaming "That's it man, game over man, game over! What the fuck are we gonna do now? What are we gonna do?" They have all been broken several times, but what is noticeably different is that yes, they are mangled pegs, but I can hold them straight for a change, they don't hurt even after fourteen hours of typing, I have not had an advil or alleve in weeks, and you see that excess skin around the knuckles- that is there not because I am skinny, but because in just a few weeks all the inflammation is gone. My knuckles are half the size they were, and the only thing I have changed is cutting sugar, wheat, rice, and processed foods out of my diet.
Sorry for all the annoying chatter, but I feel kind of evangelical about things because I think I figured something out, and I did it on my own, which means it counts and I will stick with it. Thus ends the weirdest post ever.