Move over Lindsey, we've got another contender for the dumbest cause of the crisis in Ukraine- mom jeans:
Former Gov. Sarah Palin has been basking in her "told ya so" moment, making sure Americans know she saw the current situation in Ukraine arising six years ago all the way from her home in Alaska – and she's not ready to let it go just yet.

During an interview Monday night with Fox News, Palin – in her own, quirky way – moved the conversation forward, calling out bizarre distinctions between Putin and Obama.

"People are looking at Putin as one who wrestles bears and drills for oil. They look at our president as one who wears mom jeans," Palin said "Anyone who carries the commonsense gene would know that Putin doesn't change his stripes," she said. "He wants to exert huge power and dominance, so he has to get to those border areas and he has to capture them."
Ron Christie (easily one of the most vile commentators out there, and a buffoon to boot) thinks that the crisis is still going on because Obama wore jeans while on the phone with Putin:
"Talking with the President of Russia about an invasion in a button-down shirt and jeans is not up to the task," Ron Christie, a former adviser to President George W. Bush and Vice President Dick Cheney, told the Daily News.

While it "irks" him to see the casual wear that passes through the door of the Oval Office these days, he says Obama's wardrobe choice for the Putin call was particularly bad for failing to send the "right message" given the seriousness of the issue.
Can people who look like this stop lecturing me on what is and is not macho and manly attire?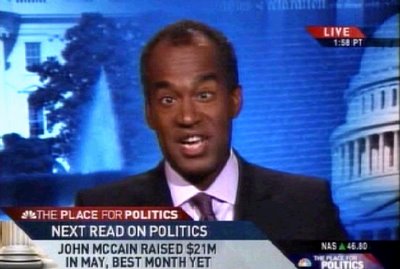 Would wearing a pink button down while talking on the phone to Putin send the right message?