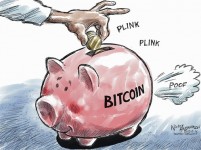 .
Oh, like you could've resisted. Kevin Roose, at NYMag:
Cameron and Tyler Winklevoss, the former Facebook foils turned Gandhi-quoting Bitcoin enthusiasts, are spending some of their crypto-currency stash on space travel.

The strong-jawlined twins announced today that they're booking trips on Sir Richard Branson's Virgin Galactic, which allows normal people to pay for the privilege of becoming astronauts. Their trips, which normally cost $250,000 apiece, will be paid for in Bitcoin, naturally. They describe their decision to go to space as "seed capital supporting a new technology that may forever change the way we travel, purchased with a new technology that may forever change the way we transact."…

Yesterday, I compared the Bitcoin faithful to a mid-20th-century cult that predicted that a natural disaster on Earth would be followed by the arrival of a spacecraft that would carry them to safety. I didn't mean the comparison literally, but here we are.
Roose shared a link to the Winklevii's post extolling bitcoin; it is, as he says "incredible". (Or maybe I mean 'incredulous'?) The "doomsday cult" post is worth reading, too — thought about sharing it yesterday, but Life Happened.
***********
Speaking of which, what Life is Happening this evening, in your neighborhoods?