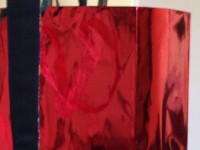 Pictured above is a red foil gift bag with lacy handles. It is the temporary resting place of my mom. Her ashes arrived via the USPS; the mail lady tooted the horn to signal she needed me, and I went outside and signed for the package.
Cremated remains, or "cremains" as the funeral director insisted on calling them, are packaged 10 ways to Sunday for postal delivery, I suppose to avoid Big Lebowski scenarios. My sister, daughter and I had tried to settle on urns at the funeral home.
I wanted to use a Bustelo coffee can (and I will, eventually) because Mom liked her café con leche. I'm not keeping the ashes; I have places in mind to scatter them.
But no one else could decide on what size urn they wanted, and I got exasperated and started teasing them about "venti" and "grande" sizes until they agreed to leave, so we're purchasing urns separately and dividing the ashes ourselves.
The package with the ashes contained boxes within boxes like a nesting doll. The last one is a somber black. I put it in the cheery red foil bag because Mom would have liked that. The ashes are surprisingly light. But so very heavy at the same time.