Rorschach time! In the comments please give your first reaction to this picture.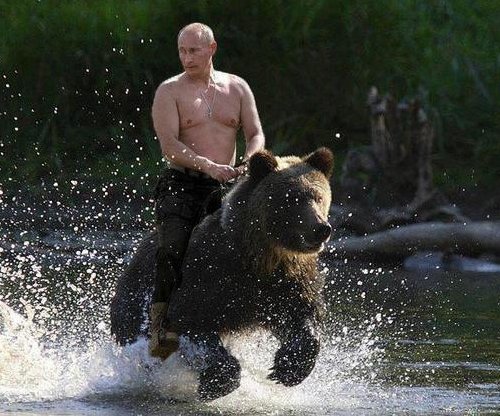 Did you feel slightly concerned for the old man? Did you chortle? Congratulations! You are a normal person. If you were a conservative you might feel a passionate urge to start a religion.
Why do authoritarians worship strong daddy figures? Don't know. I'm not that kind of scientist. No doubt it happens for all kinds of reasons; regardless you sure seem to see it a lot. Take Putin's base voters, a charming group of gay-bashers who have a Hitler thing that might surprise you if you recall how much Russia sacrificed to get rid of the guy. I think in their case you need to see how hard it would be to resist what Hitler represents: national pride, racial pride, purity, strength, the warm feeling of a crusading purpose. Russia has been a confusing place (to put it nicely) at least since the Soviet Union went sideways in '89. Every year the Bear loses a little population, status and economic influence to the West and to China. You cannot deny that even taking into account its Georgian prize Russia has fought a constant battle against territorial decay while Europe, NATO and even China eat away at its sphere of influence. In an atmosphere of things falling apart a little clarity and violent purpose can have an awfully seductive appeal.
When Obama won re-election Republicans contemplated a related but different sort of inexorable decline. Nits like Derb can rage against the dying of the light but smarter folk like Rove know full well what will happen if the GOP cannot lure more than a token share of hispanics back in the tent. That air of loss and desperation makes a person awfully receptive to the sorts of restoring force that would seem excessively violent or disruptive in better times.
Of course you have the average run of conservatives and then you have ultras. The latter includes folks like The Family, a secretive leadership cult that has met in DC almost as long as the Freemasons. Even in good times Familials never stop with the worship of Adolf and other daddy figures.
When I was working on that story, I remember debating how much Hitler we should put in the piece. That is, we wondered how fair it was to dwell on The Family's invocations of Hitler as a model of "total commitment." As it turns out, it was quite fair. After I left Ivanwald, a team of researchers and I spent years combing through hundreds of thousands of documents in archives around the country. We discovered that as far back as the 1940s, when The Family began organizing congressmen, the group's founder, Abraham Vereide, was praising Hitler's "youth work" as a model to be adopted by Americans. He denounced Hitler himself, but he admired fascism's cultivation of elites, crucial to what he saw as a God-ordained coming "age of minority control."

The Family has put that concept, which they call "Jesus plus nothing," into action for decades, from their early successes fighting the New Deal in the 1930s and 40s to their recruitment of war criminals such as Herman J. Abs, known as "Hitler's banker," into postwar European leadership, to their facilitation of U.S. support for dictators ranging from Papa Doc Duvalier of Haiti to Suharto of Indonesia to Yoweri Museveni of Uganda, now their "key man" for Africa. The fetish for strongman leadership has continued with Vereide's successor, Doug Coe, who leads the group today. Throughout his letters in the Billy Graham Center Archive at Wheaton College, I found references to the leadership model of Hitler. In one sermon, variations of which he's given many times, Coe says: "Jesus said 'You got to put Him before mother-father-brother-sister.' Hitler, Lenin, Mao, that's what they taught the kids. Mao even had the kids killing their own mother and father. But it wasn't murder. It was for building the new nation. The new kingdom."
To be fair it makes some sense to idolize these guys if power is your single and only goal. Otherwise it might seem a little disturbing.
Hey, speaking of authoritarians, I wonder what happened to those kids from Jesus camp.
Like those kids in early Communist China, you always have the risk that grownups will tell you to worship a guy in summer and then tell you to pretend he never was before the harvest is due. Much easier to just teach the little 'uns to hate Emmanuel Goldstein. That guy never changes.