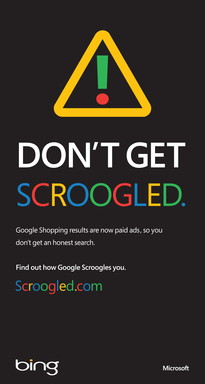 I knew that Mark Penn had been promoted to Microsoft's new "Chief Strategy Officer", but I didn't know that he was responsible for the "Scroogled" campaign, where Microsoft attacked Google for misuse of users' data immediately before it was revealed that Microsoft also shared tons of data with the NSA. Because this was a Penn operation, the Scroogled campaign included a store where people could buy swag like mugs and t-shirts. Those quickly sold out, in part because Google employees apparently bought them as a joke.
In case your child ever ingests some poison and you need an swift and reliable emetic, here's a paragraph from Penn's Microsoft bio:
For six years, Penn served as White House Pollster to President Clinton and was a key strategy adviser in his 1996 re-election, identifying "soccer moms" as the key swing vote needed for victory. Penn also served as chief strategist to Hillary Clinton in her Senate campaigns and 2008 Presidential campaign, devising her "upstate strategy" in New York and creating the "3 AM" ad in the 2008 primaries. Throughout his career, Penn has helped elect more than 25 leaders in the United States, Asia, Latin America and Europe.
I lived in Upstate New York when Hillary was running and as far as I could tell, Penn's "upstate strategy" consisted of "Hillary, make a few campaign stops north of Westchester County. Oh by the way, where's my check?" And of course he left out his complete failure to grasp the rules of the Democratic Presidential Primary, as well as Nick Clegg.
I have to believe that even if this turd has left the Clinton world, some of his skidmarks remain. That, not the Clenis, is my main concern about putting the Clintons back in the driver's seat of the Democratic Party.
Update: And, like clockwork, a skidmark from another turd in the Clinton orbit:
Clinton Hires McAuliffe Aide http://t.co/HIGQJrBdjn

— Taegan Goddard (@politicalwire) March 10, 2014