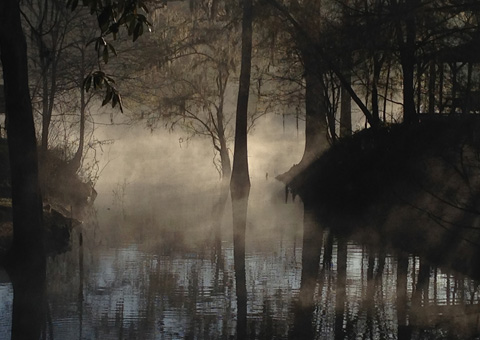 Pictured above is a short run to the Suwannee River early Saturday morning, when the air was cooler than the water. It warmed up nicely, reaching the low 70s. We had wonderful weather for my mom's memorial, which was held outdoors and was more raucous party and jam session than funeral, which is what she would have wanted.
So now we're in the "life goes on" phase, I guess. As I mentioned the other day, after I get my portion of Mom's ashes in the Bustelo coffee can, I plan to scatter them in at least three places. One will be a particularly beautiful and remote spot on the Suwannee where we took a canoe trip, and that will allow her ashes to flow past the sites of her siblings' homes on the Suwannee, which would please her, I think.
I also plan to go camping in North Carolina and release some of the ashes in Hominy Valley. Mom and I broke down there in an RV once (you can read about our zany, madcap adventure here), and while we waited for a mechanic to come fleece us, we marveled at the beauty of the spot.
The last ash scattering will be at a lovely fresh water spring that is near my childhood home town. It's got incredibly clear, cold water that has an almost turquoise blue hue. It is frequented by manatees in the winter. Before the developers got ahold of the surrounding land, it was a wooded Eden that my parents and their goofball friends would take us kids to for a day of swimming (for the kids) and debauchery (for the adults).
I've let my family know I want at least some of my ashes scattered there, if enough of the state remains above water to locate that spring by the time I croak. So I've got that going for me.
What are y'all up to tonight?