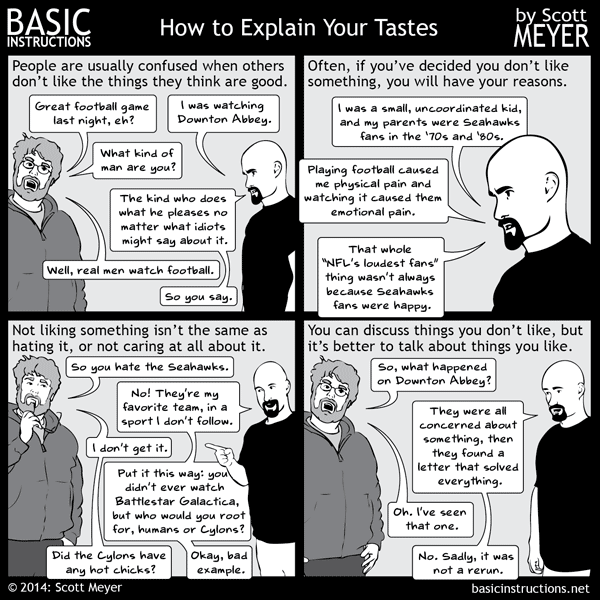 A couple of you have said you're sick of the whole Bitcoin story, but I'm still intrigued by the Rashomon aspects of Newsweek's "big reveal". Felix Salmon had two long, informative posts this weekend. The first explains why he thought Newsweek's claim it had 'outed' Dorian Satoshi Nakamoto as Bitcoin's inventor was "ill-advised":
… Newsweek didn't want a theory, it wanted a scoop. And so, faced with what was ultimately only circumstantial evidence, it went ahead and claimed that it had uncovered Satoshi — that, basically, it was 100% certain.

That decision was ill-advised. Newsweek certainly got lots of buzz for its return to print — but it's now getting just as much buzz for going to press with what is looking increasingly like a half-baked theory. Personally, I don't know whether Dorian is Satoshi — but I think I can be pretty safe in saying that the probability is somewhere in the range of, say, 10% to 90%. In other words, it's possible; it might even be probable; but it's not certain. And anybody who says that it is certain is wrong…
Salmon's second post explained how, and why, reporter Leah Goodman and her editor's old-media bias collided so vividly with Bitcoin's primary defenders.
Kevin Roose, at NYMag, had a thoughtful post on "the hijacking of Satoshi Nakamoto":
… While the is-he-or-isn't-he debate was swirling around Nakamoto yesterday, I took a minute to go back and review the original white paper [PDF] in which the creator (or creators) of Bitcoin first described the concept. It was a good reminder of just how far removed the current Bitcoin ideology is from the original vision, and how badly the Bitcoin community has screwed up the plan that Nakamoto – whoever it/they is/are – laid out six years ago.

The Bitcoin system Satoshi Nakamoto described in 2008 didn't come attached to a chest-puffing manifesto, an end-the-Fed jeremiad, or a desire to rid the world of government-backed currency. It was a beautifully simple idea: a system that would allow people to send payments to each other without having to go through a bank, using a system of algorithmic matching called a "block" to make sure that people actually got paid the amounts they were owed.

In the five years since the white paper, Nakamoto has gone underground, and his idea has been taken up by a group of zealous dorks. These people call each other "brothers," wax rhapsodic about their devotion to Bitcoin, and make no bones about their prediction that their beloved crypto-currency will change the world in the same way the Internet did. Their politics tend to be, if not straight-up libertarian, then at least suspicious of government – they see Bitcoin as a tool with which to pry the global monetary system away from political officials and put it in the hands of a decentralized, mathematical grid…

Nakamoto does seemed to have grasped the political implications Bitcoin might have – he's quoted frequently as having said, "[Bitcoin is] very attractive to the libertarian viewpoint if we can explain it properly" – but if you look through his early writings, what sticks out is that the politics of Bitcoin were very much secondary to the technology. Bitcoin was never meant to be the cornerstone of a new world order, and it's only when it began to spread that it picked up the goofy connotations it has now….
I'm not competent to judge whether Dorian Satoshi is the Nakamoto responsible for Bitcoin, but I can understand why the guy who came up with an elegant crypto-currency would be appalled by both Newsweek and his more devoted defenders. Imagine how Professor Tolkien would have felt about being pestered to rate Liv Tyler's "importance" to his epic… or asked to critique the literary merits of Orlando Bloom/John Rhys-Davies fanfic…